Welcome to Our Service Department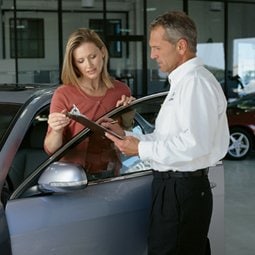 You notice that your Ford is beginning to act up -- handling more jerkily, making loud noises, braking more sluggishly -- but you don't have the time or energy for fruitless back-and-forth trips to the service center or drawn-out telephone conversations. We get it: you're busy, you're active and you need your car cared for as soon as possible. That's why we make it easy to make that happen at our Ford service center near Greenville, SC, and you don't even need to leave the comfort of your home to schedule a service appointment.
George Coleman Ford is all about streamlining customer service and improving the dealership experience overall. That's why we offer online service scheduling to our customers. Simply fill out the following form with your name, contact information and preferred appointment date. Also provide us with some details about your vehicle and the service you'd like us to perform. Once you're done, you can simply bring your car over to our service center on the given date and we'll get right to work. We work fast and with a professional eye, and you'll soon have your car back in your hands and as good as new. If you have any questions about the service we provide or about the tinkering you plan to do in your spare time, we are happy to provide you with the answers and some helpful advice. Set up a service appointment today. It's a decision you won't regret!